**I had originally planned to post this LO earlier this week-I was just REALLY undecided if I could keep this LO pictureless-I was thinking of adding a pic of Little Man I had taken over the C-mas holiday since I didn't have a pic of the actual event. I think I like it better this way. ;)
****************************************************
Picture it. You arrive at you kindergarten-er's Christmas recital.
You have been anticipating this for several weeks.
You have your camera. Your battery is charged.
You have the perfect (yet uncomfortable) seat.
Great view of the stage and you can jump up at a moment's notice.
You wait. They hold the kindergarten class until the very-
VERY end and in then, in the gymnasium they walk.
You pull out your camera to sneak a picture of him walking by-
AND HAVE NO MEMORY CARD!
(I left it home in my computer).
I was HEART broken. He did such a great job-waved to us
MOST of the time and at the very end yelled out a big 'Hi Karen!!'
to my Dad's better half. It was awesome. And I had NO pics.
I pouted for a few days and then noticed this
cute little snowman that Little Man brought home
from school and thought-Meh! I will scrap it anyway-sans pic-
and just use this cute little snowman instead
(and journal a BUNCH!). And THAT's what I did.
I included a close up of the journalling as well.
Layout features Holly Jolly Line from My Little Shoebox.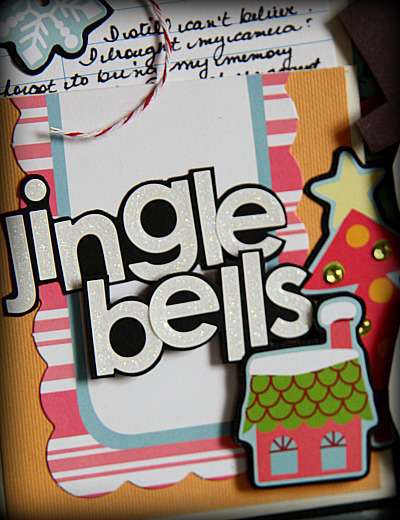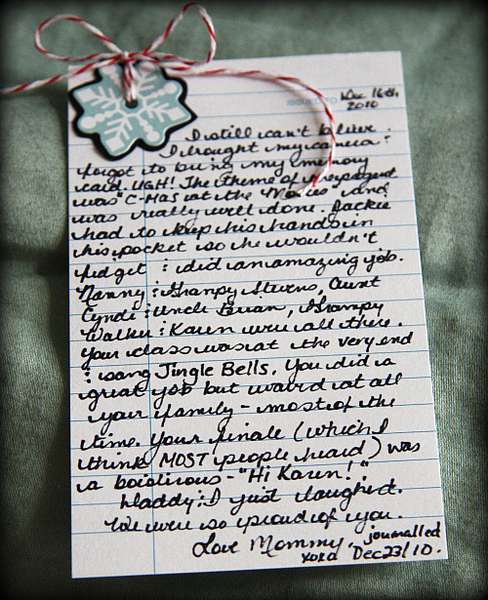 Have you ever not scrapped an event because you never got a photo?
If you did, were you happy with your page in the end?
I think this might go down as one of my favorite LOs
(I really love that cute little snowman BUT I still WISH I HAD A PIC!)
Tee hee.
Oh well, there is always next year.
Thanks for stopping by!