It's always such a treat for me when my pages and cards are posted at the MLS Blog. There is always tonnes of eye candy there featured from my team-mates and absolutely worth the visit! Make sure to stop by and say HI!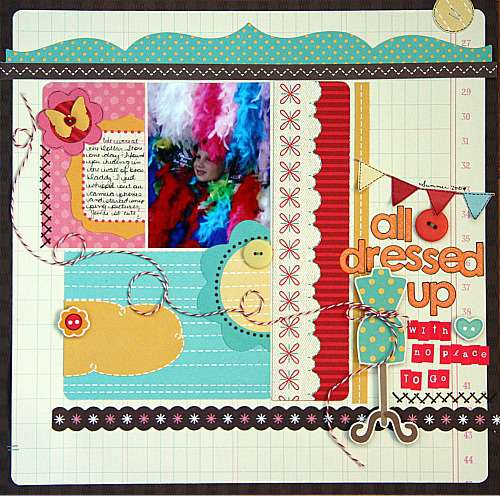 Today, I was happy to see my Sew Cute projects featured. I did 2 layouts and 2 cards so far with this sweet line. I was a bit concerned as to how I was going to work this line around my 'guy' pics but as you can see, with a play on words it is totally workable! The vibrant colors of this line definately make it one of my personal faves!
The above LO is of Little Man hiding amongst the walll of BOAS at the Dollar Store.
Such a little Ham :)
The pic in this LO is of my 2 boys a few years ago.
I have been feeling a bit nostalgic lately since I have realized that my little guy is no longer the cute little toddler he used to be but now the sweet & funny, more serious and more mature little kindergartener.
I am so happy that he is growing & learning (and that his behaviour is improving--FINALLY!!)
but OH how I miss my 'baby' these days.
Last but not least, I have a couple of cards that I put together as well.
(the inside reads: Thanks 'sew much'!)
Thanks for popping in!
Have a Happy Tuesday!