....Auf Wiedersehen, goodnight
I hate to go and leave this pretty sight.
As soon as I started writing this post, this song from the Sound of Music popped into my head (BTW, I may be the only person in the free world who has
never
seen it much to my darling husband's dismay).
But I digress. As usual. :) If you have just happened here, we are having a farewell bog hop at My Little Shoebox. You should start at
THIS blog
.
Can you believe how quickly 9 months has FLOWN BY?? I have to admit that I am a bit sad to be leaving this FABULOUS team and leaving this OH SO GENEROUS and just AWESOME company (I have seriously had a crush on My Little SHoebox scrappy supplies for quite some time & Miss Helen sure knows how to design stuff that lights my scrappy fire). But, on a positive note, I firmly believe that everything happens for a reason, so I will leave you with that happy thought and some of my favorite MLS projects.
(`Thanks sew much`card)
(Arrows are pointing to Donald Trump ;) Sorry the photo is so dark)
Both of these projects are using the new
Farmer`s Market line
and are easily my new fave line from MLS.
I didn`t intend to add so many images but once I got looking through my past projects, I had a REALLY hard time narrowing it down. I guess when you use a product you love, you make projects that you love too.
So if you are still with me, THANK YOU.
I have a little prize to give away but I need you to help me out first.
* follow me on my blog
AND
*leave me a comment on this post that you did by midnight EST tonight
and I will randomly pick a person tomorrow to receive this little bunch of MLS deliciousness.
Be sure to check back then!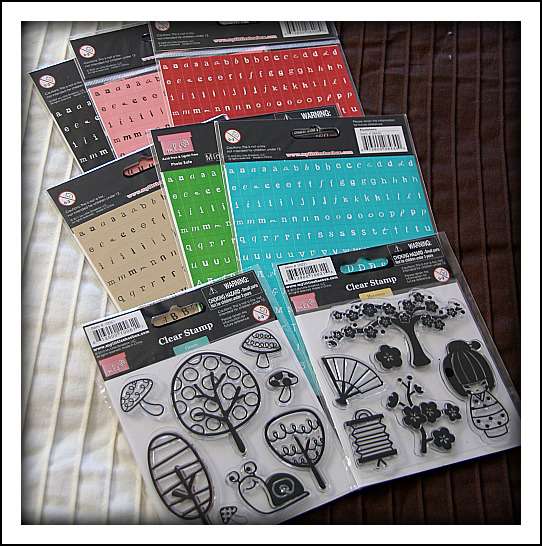 Now please make sure to hop all the way to the end (the talented
Deanna Misner
is next on the hop) to be eligible for another MLS prize.
Thank you Miss Helen and the MLS team!
I have had a ball working with you!!